Get the deals. First.
As the BMV market tightens, we are seeing a limited number of genuinely deliverable deals. With the reduction in properties in this market, each one becomes more valuable.
Our Solution
As a result our deals sell very fast, and we have to disappoint many investors. The solution is our new Priority Service, giving subscribers the newest deals, as a priority.
Typically, as BMV properties in London are rare and very sought after, our London deals are available exclusively to members of our priority club.
Sign up to priority list today below.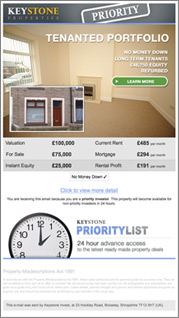 An example of a priority email
24 Hour advanced notice
Make sure you don't miss out on the chance to build your property portfolio by subscribing today.
A chance to grab the best deals
24 hours advance notice
All for a small fee
Access to other discounted products
Exclusive London properties
£5.95 per month - first month free
---
Sign up for Priority Today. And get your first month free.
Secure payments through Paypal.
1st month is free to new subscribers.
pri · or · i · ty
n. the right to precede others in order, rank, privilege, etc.; precedence.
Source: Dictionary.com
To join the priority list, click on the sign up button to the left and pay using our secure Paypal system.
Copyright ©2008- Keystone Invest Ltd. All Rights Reserved. Below Market Value BMV Property | Server Hosting Data Centre